What is a industrail fiber switch?
author: OLYCOM
2023-08-18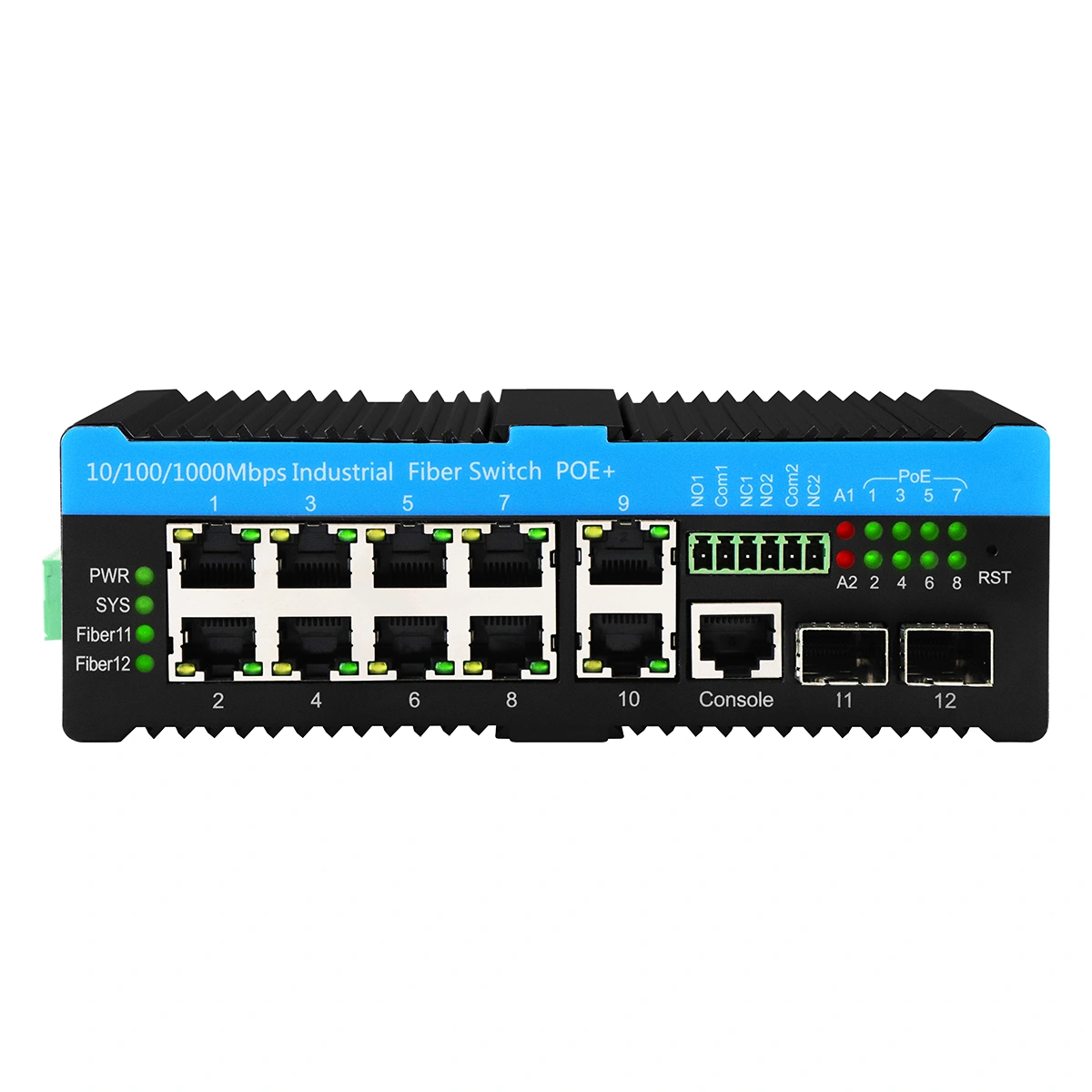 The Introduction of industrial fiber switch
With the growth of industrial automation and advancements in network technology, industrial fiber switches have become a crucial component in CCTV video surveillance, intelligent transport, and telecom networks.  They offer features like high reliability, strong anti-interference, larger bandwidth, and long-distance transmissions through optical fibers, which can effectively solve the data transmission problems in industrial communication.
What are the benefits and features of the industrial fiber switch?
Firstly, fiber optic cable is used as the transmission medium, Industrial fiber switch can achieve long distance and fast speed transmission with strong anti-interference ability compared to the ordinary switches.
Secondly, industrial-grade switches are designed to operate in harsh environments, with temperature ranges from minus 40℃ to 85℃ and aluminum alloy shells that provide better heat dissipation and corrosion protection when compared to business-grade plastic or sheet metal shells.
Finally, DIN rail-mounting is a standard installation method that can easily fix the switch in the cabinet, avoiding the use of screws and other complex installation methods.  Moreover, din rail can ensure the stability and safety of the equipment, and avoid the situation of loosening or shaking of the equipment during operation, thus improving the reliability and safety of the equipment.
All in all, industrial fiber switches are better able to adapt to harsher environments and it have stronger security, stability and adaptability.
The application of the industrial fiber switch
Industrial grade switches can be used in many ways.  In terms of smart cities, you can apply it to video surveillance systems in campuses, entertainment venues and other places.  Industrial switches can also solve the data transmission of urban public transportation signal system, highway road monitoring application, highway toll station monitoring system in the aspect of intelligent transportation.  Industrial fiber switches also play a role in smart energy, such as wind power generation network solutions, photovoltaic power generation network solutions, substation monitoring systems and so on. 
Anyway, Industrial grade switches are widely used and are a good choice in many aspects.
How to choose the right Industrial fiber switch for your Business?
Choosing the right Industrial fiber switch for your business could be a tough task.  With so many options available, it's essential to consider your specific needs and requirements before making a decision. 
Firstly, you need to decide if you want industrial grade or commercial grade, industrial grade commercial grade is more expensive, because they have different levels of protection, shell, etc.  And Industrial grade switches are more adaptable to the environment,it is also stricter on structural design.
Secondly, you have to determine how many devices you need to connect, the corresponding number of optical ports and network ports.  This will depend on your existing network infrastructure.
Finally, It is also important to confirm whether poe function and management function are required.  POE function has the ability to provide power to connected devices over the Ethernet cables.  This can be useful in situations where there is no other source of power available, or where it would be inconvenient to run a separate power cable to the device.  If powering your PD device is converient, you don't need to choose this function, otherwise it is still recommended to choose this function.  Management function allows network administrators to have control over the device, while an unmanaged one does not.  A managed industrial fiber switch provides greater control and flexibility over the device's settings. Administrators can monitor traffic in real-time, configure security protocols and remotely troubleshoot issues from a central location.  If you have a small network that doesn't require advanced features, then an unmanaged switch may suffice.  However, if you have a larger network requiring more granular control over traffic flow and security measures, then investing in a managed fiber switch might be worth considering.
In a word, which type of industrial fiber switch you choose will depend on your specific needs and requirements.
If you don
'
t know how to choose
, Olycom can help you work out a good solution according to your needs
.
You are welcome to 
contact us
to make the best choice for you.