What is a POE switch?
author: OLYCOM
2023-08-25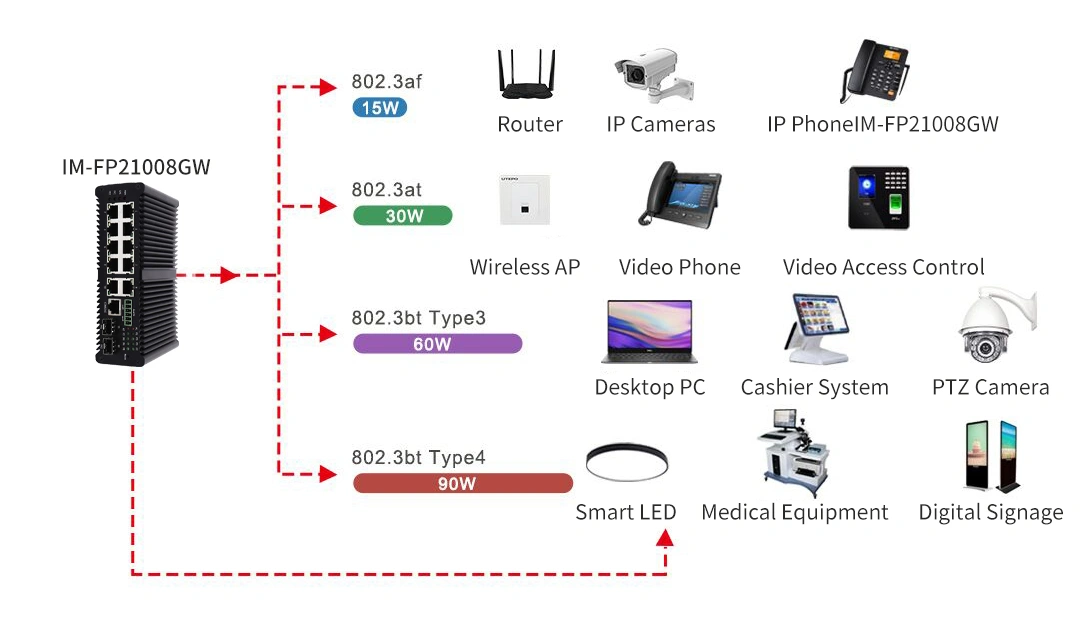 With the popularity of POE powered receiving devices (PDS) such as VolP phones, IP cameras, and wireless access points (WAPs or aps), PoE (Power over Ethernet) technology has advanced significantly in recent years. In the future, with the release of new-generation PoE power supply standards and the emergence of more and more new PoE power receiving devices, PoE will continue to develop by virtue of its advantages such as easy deployment. 
We talked about poe function is a technology that transmits data signals to IP-based terminal devices through Ethernet cabling architecture and provides direct current to these devices. With this technology, we can use Cat5, Cat5e, Cat6 and other network cables power and transmit data to indoor/outdoor PoE receiving devices without the need for additional equipment for these install power sockets and even deploy power facilities.
The POE switch port supports 15.4W or 30W output power, complies with IEEE 802.3af /802.3at standards, and supplies power to standard POE terminal devices through network cables, eliminating the need for additional power wiring. In line with IEEE802.3 at POE switch, the port output power can reach 30W, and the power obtained by the power device is 25.4W.
Generally speaking, POE switch is a switch that supports network cable power supply, which can not only achieve the data transmission function of ordinary switches, but also power the network terminal at the same time.
What is IEEE 802.3af standard?
IEEE 802.3af standard: The IEEE 802.3af standard, published in 2003, established the industry's first PoE power supply standard. Specifically designed for 10/100/1000BASE-T Ethernet, it ensures that PoE power supply devices adhere to the IEEE 802.3af standards and are capable of providing up to 15.4W power through two twisted pairs in the network cable, without interfering with data transmission.
What is IEEE 802.3at standard?
IEEE 802.3at standard: This standard is an extension of IEEE 802.3af that aims to enhance the power output of POE-powered devices. In 2009, the IEEE 802 3at standard was approved, and power supply devices that comply with this standard can deliver direct current through two pairs of twisted pairs in the network cable, with an output power of up to 30W. This represents a significant improvement over the equipment in the IEEE 802.3af standard, as it offers nearly twice the power output.
What is IEEE 802.3bt standard?
IEEE 802.3bt standard:The IEEE 802.3bt standard, which was introduced in 2018, is the latest PoE power supply standard aimed at high-speed 2.5G/5G/10GBASE-T Ethernet. This standard defines two types of PoE power supply: Type 3 and Type 4. Both power supply methods output DC power via four pairs of twisted pairs in the network cable. The main difference lies in the power output capacity. Type 3 PoE provides 60W power from the power supply device, while Type 4 PoE provides 100W power from the power supply device.
What are the benefits of the POE switch?
Firstly, the use of PoE power supply technology eliminates the need for socket installation, power cable deployment, and line transformation, resulting in significant time, network deployment, installation labor, and maintenance cost savings. The cost and time advantages become even more pronounced as more PoE-powered devices are used in the network.
Secondly, PoE-powered devices can be deployed in almost any location and environment without worrying about socket location or power cable routing. This makes network expansion much more flexible and convenient.power cable routing.
Finally, PoE is powered by low-voltage PC power supply equipment (PSE), which eliminates the risk of electrical accidents due to power leakage. PoE power supply devices can also be connected to UPS (uninterruptible power supply) systems to ensure uninterrupted operation in the event of a power outage.
Why choose the poe switch?
When considering Industrial fiber switches, there are primarily two types: Poe and non-Poe. The main difference between the two is that Poe switches can provide power to connected devices over Ethernet cables, while non-Poe does not have this capability. Ultimately, choosing Poe or non-Poe will depend on your current network infrastructure.  If powering your PD device is convenient, you don't need to choose this function, otherwise it is still recommended to choose this function. After all, the poe function saves time and cost to a great extent.