Things you need to consider before choosing a POE switch
author: OLYCOM
2023-09-01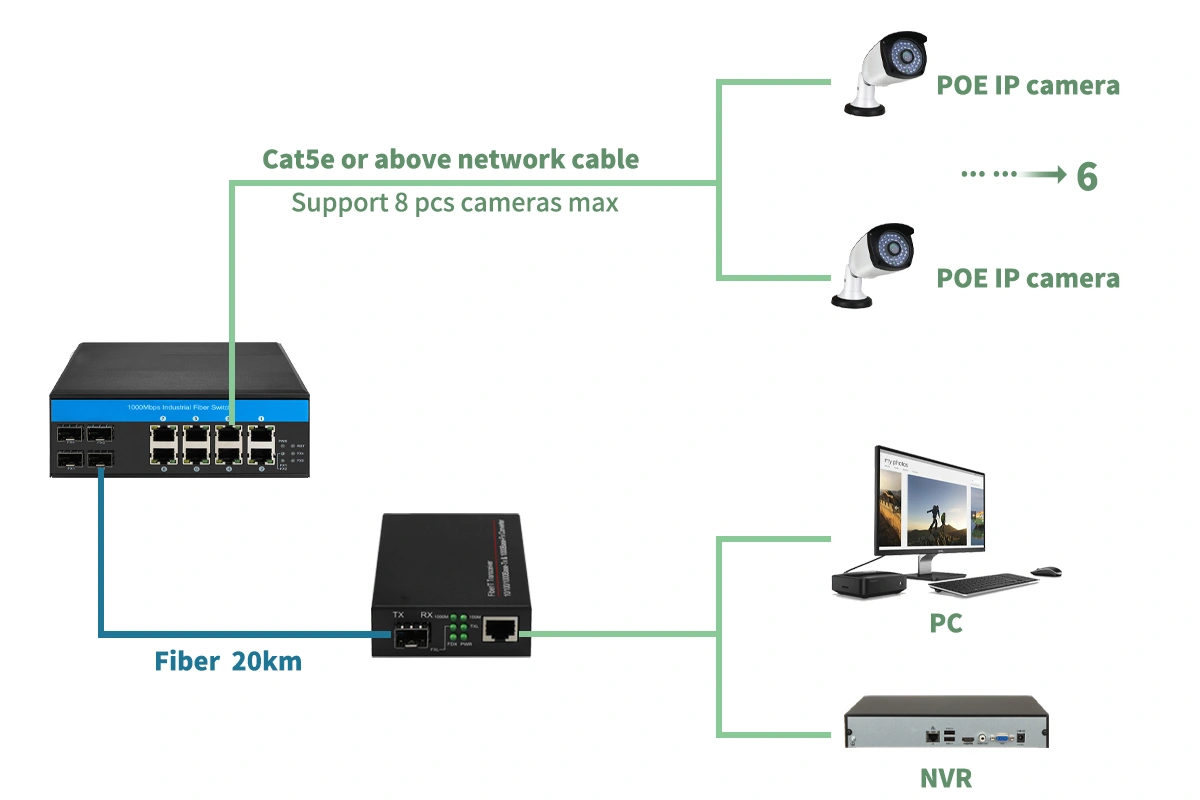 Are you encountering difficulties connecting devices to your industrial systems and transferring data while also supplying large amounts of power to powered devices (PD), such as IP cameras or wireless access points? Power over Ethernet (PoE) may be the solution you're seeking. This innovative technology transmits electric power over twisted-pair Ethernet cables to powered devices.
PoE is among the most cost-effective networking technologies. It enables professionals to install remote or external equipment without connecting to AC power and can supply power to several locations without the need to install additional electrical cables or outlets in each location. PoE (Power over Ethernet) also makes it easier for companies to expand their networks 
However, as the market demands higher resolution IP cameras and wireless access points that connect to more devices, the current mainstream 15 or 30 Watt PoE is no longer sufficient. Additionally, ensuring compatibility between PSE and PDs can be time-consuming and cumbersome.
This article will provide a comprehensive list of considerations to be taken into account when choosing a suitable POE switch. By the end of the article, you will have a better understanding of how to deploy industrial systems that utilize PoE solutions.
POE standard selection
Have you ever experienced difficulty in finding a PoE switch that can support your IP camera? It's crucial to take into account the compatibility between PSEs (PoE switches) and PDs (IP cameras) when developing your industrial systems to avoid future issues.
Since the introduction of IEEE 802.3af PoE standard in 2003, industrial engineers have been deploying more PoE switches in the field. However, with the evolution of devices and the addition of new features such as object detection and light scanning, they require more power. Manufacturers have responded by creating proprietary protocols to support higher power output, but this can sometimes cause compatibility issues between PDs and PSEs.
 
Therefore, it's important to consider interoperability when selecting networking devices for the entire system. Various tools exist to detect voltages and monitor power capacity, allowing compatibility testing before deployment to the field. The IEEE 802.3 at/af/bt standard should be followed by PDs and PSEs, or a tool or software such as Sifos should be utilized to ensure compatibility.
Determine the bandwidth problem
Have you ever experienced network connectivity with footage hindering the transmission of data packets from an IP camera due to a delay? In an industrial setting, transmitting high-quality snapshots or video streams to a control center is often a requirement, leading to an increase in bandwidth demand.
 
Therefore, it is crucial to ensure that PoE switches carry sufficient bandwidth capacity to support 4K or UHD cameras and reliably supply high-quality streams without video loss or degradation. However, full-Gigabit-port PoE switches are exceedingly costly and may not be practical. An ideal alternative is to opt for PoE switches that offer combinations of Gigabit or even 2.5 GbE ports, providing network flexibility without a significant financial burden.
Determine the power consumption of PD
Have you ever found yourself in a situation where you needed to check the power consumption of your powered devices, such as IP cameras, and then configure your PoE switches accordingly? This task can be cumbersome and time-consuming, which is why we need to explore alternative solutions that simplify the process.
One common scenario is when a PoE switch supports up to IEEE 802.3bt 90 W output, but the powered devices, such as wireless APs and IP cameras, utilize power from 15 W to 90 W. Fortunately, recent advancements in technology have introduced new solutions that help alleviate this problem. For instance, some PoE switches now feature automatic detection of power consumption in powered devices. This feature has been widely recognized in the industry as a game-changer that significantly simplifies configuration and deployment.
Conclusion
Industries are constantly evolving, and customers are demanding more from their networks than ever before. To meet these demands, you need a reliable and proven solution. Olycom's IM-FP21008GW Ethernet switches have models with up to 8 IEEE 802.3bt PoE ports, and IM-FP20806GW have models with up to 6 IEEE 802.3bt PoE ports,  each capable of delivering up to 90W output per port. These switches are compatible with industry standards such as IEEE 802.3at and IEEE 802.3bt. Our product portfolio includes a range of port combinations, including fast Ethernet, Gigabit, and 2.5GbE, to provide maximum flexibility in deploying industrial networks. Of course, management function and bypass function are also optional, Olycom can help you finalize a good solution based on your needs.